(Review) The Love Letter of Abelard and Lily by Laura Creedle #17DABash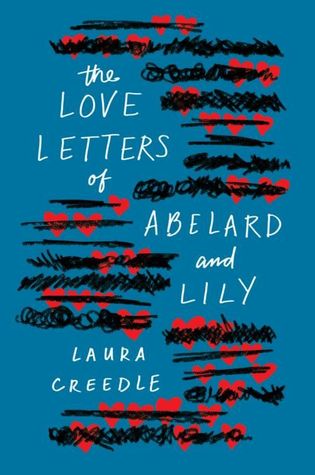 The Love Letters of Abelard and Lily
by
Laura Creedle
Publisher
: HMH Books for Young Readers
Release Date
: December 26th 2017
Genre
: Young Adult, Contemporary, Mental Health
Synopsis
:
When Lily Michaels-Ryan ditches her ADHD meds and lands in detention with Abelard, who has Asperger's, she's intrigued—Abelard seems thirty seconds behind, while she feels thirty seconds ahead. It doesn't hurt that he's brilliant and beautiful.
When Abelard posts a quote from The Letters of Abelard and Heloise online, their mutual affinity for ancient love letters connects them. The two fall for each other. Hard. But is it enough to bridge their differences in person?
This hilarious, heartbreaking story of human connection between two neurodivergent teens creates characters that will stay with you long after you finish reading.
my thoughts and whatnot
As soon as I read the synopsis, I was intrigued. I mean, it's not every day I get to read a book that features not only one, but
two
neurodivergent teens. And just by that, I was hooked.
Creedle's writing style really suit my reading-palate. It was so good, I practically flew through this one. It's so easy to get sucked in the story that was so intricately written, so well-thought out.
The characters, Lily & Abelard, are forces to be reckoned with. Lily is fun, complex, smart, interesting, albeit easily distracted, and impulsive. She's what I'd like to call
full of life
. Her self-motivation is something to be noted. Abelard, on the other hand, is quite the polar opposite of Lily. For some reason, while reading this book, Abelard reminded me of Sam Gardner (from
Atypical
tv series). He's sweet, super smart, and reserved (good looking, too). And he's pretty great with words, as well (not shocking since both characters were well versed on medieval literature). Let me just share this quote from the book:
"You are fractured snowflake, a pattern repeated in infinite detail in a world full of salt crystals. You're not broken – you're perfect."
See? 'nuff said.
Anyway, the other characters, like Lily's and Abelard's family and friends were pretty well written, too. Not all characters are perfect which made it all the more perfect (because no one's really perfect, right?)
Overall, I enjoyed reading this. Reading this was a roller coaster ride: there's ups and downs, but in the end, it was a thrilling ride to be able to read a book that stars complex characters. This is a book that I won't hesitate to recommend to anyone.

Here's other quotes that really got me:
"...you can't rely on another person for happiness..."

"I spent my entire life as a teacup with a jagged crack running down the side, an imperfect vessel threatening to spill my contents onto the table at any random moment. Tolerated but not adored. It didn't seem like it would be possible to love me. Probabilistically unlikely at best. But for Abelard, the jagged crack was the interesting thing about me."
About the author:
Laura Creedle lives in Austin, TX, and writes about her experiences as an ADHD writer at www.lauracreedle.com. THE LOVE LETTERS OF ABELARD AND LILY is her debut novel.
Find her here: